Since we showed you how to lock your bike yesterday, today we'll help you find the best option for what to lock it with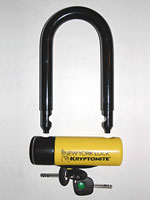 The Kryptonite New York Fahgettaboudit U-lock. Since they switched to flat keys, this has got to be the single best bike lock ever created...
If you want to know the rest of the rankings as well as the tests involved,
check the full article out HERE
. There are also some more tips on keeping your bike from being stolen as well.